RESIDENTIAL
Pressure washing Protects Your Home
Don't ignore your house from mildew, algae, and other biological growths which can attack surfaces and shorten the lifespan of paint, wood, vinyl and other finishes. Most paint manufactures; such as, Sherwin Williams, Porter Paint, and Behr recommend regular exterior cleanings to help extend the life of their coatings.  Your house is one of your largest investments and a regular exterior cleaning can help to extend the life of that investment..

Your roof is one of the most noticeable parts of your home or business exterior. Its design is mainly for protection of the building but also to reflect heat to help your hvac system achieve your desired level of heating or cooling.
We utilize a softwash process that allows us to clean your roof without the use of high pressure which will damage your roof and shorten its life expectancy. Our roof cleaning process is the process recommended by roofing manufacturers. We clean all types of roofing with this process and have had tremendous success in removing the algae that causes unsightly staining. In some cases you may even notice a reduction in your energy costs due to more heat being reflected from the cleaner roof.

Expert Pool Enclosure Cleaning
In Florida, we love our pools! But as any pool owner will tell you, the ownership of a pool comes with a cost of maintenance. Decks can get slippery and dangerous if algae is allowed to grow. Pool screens can turn green and dirty when the springtime pollen is falling. Leaves and tree debris can make screens sag and tear, and will often clog the hard to access gutters between your pool cage and roof.
The appropriate amount of pressure must be considered when cleaning pool enclosures! Too much pressure can rip and tear screens, leading to thousands of dollars in damages. Too much chemical usage can strip the finish off the pool cage, leaving bare untreated metal which will quickly corrode and there is danger in trying to clean out those hard to access gutters. When in need of cleaning its best to leave it to the professionals with experience and expert equipment so that you can spend your time enjoying your pool instead.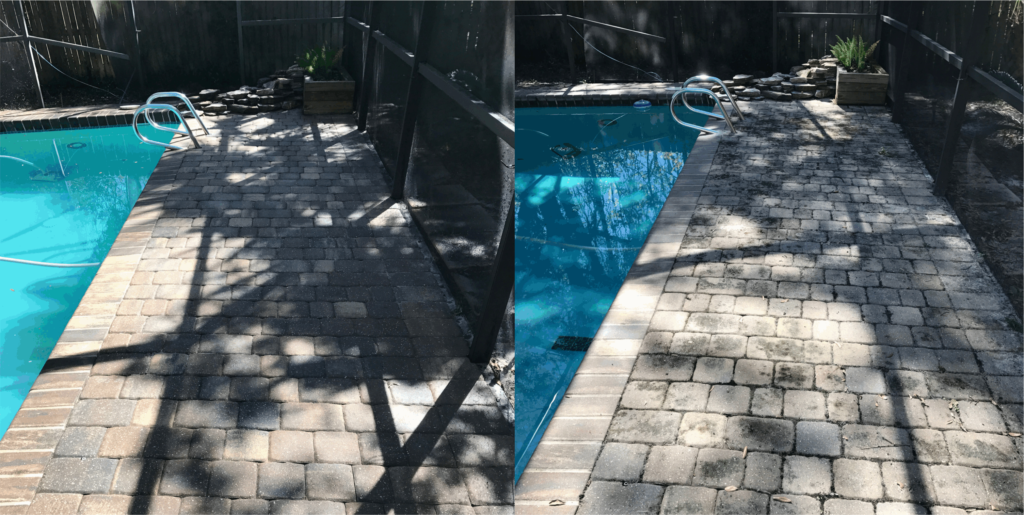 Deck cleaning
Complete Deck Cleaning Services.
It`s no secret that decks are often the most neglected part of a home. Over time, neglect can lead to an unsightly deck with mold or mildew growing on it. This can also pose a safety risk for children and pets who may fall through rotten boards if not taken care of in timely manner. Titan Pro Powerwash is here to help!
We offer complete deck cleaning services for your residential property! Our team uses environmentally friendly products so you don't have to worry about the environment while we clean up your mess!